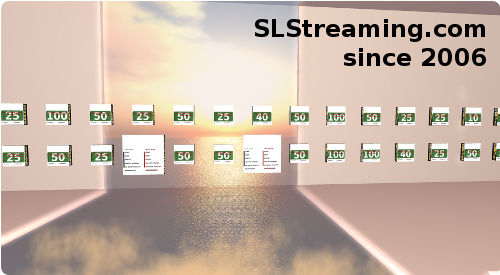 SLStreaming.com (est.2006) enables its users to stream their music and live acts into in-game parcels.
Become a DJ or let people listen to your gig.
audio streaming server from L$ 20


short lending periods 24h

server location: US & EU


Backup streaming server is included here: different serverroom, different power supply, different internet connection etc…!!!


Money-Back Guarantee!!!

We do refund if you are not satisfied.


INSTANT ACTIVATION


Your server's meta data in game and on the web

Beside

SHOUTcast

we do offer Icecast click here, please.

Fully automated server rental for Second Life residents.
In-game-location: http://slurl.com/secondlife/Cralwer%20Prime/205/151/21
RELIABILITY through REDUNDANCY
~99.7% uptime guaranty (main server)
+99.7% uptime guaranty (backup server)
======
100% reliability or your money back!!!
ONE booking (in SL) – TWO servers (totally different serverroom locations in RL)
So get twice for your money: Your BACKUP SERVER is already INCLUDED
So you can switch in case of emergency! (It is just a machine.)
SLStreaming is powered by http://backend-machine.de
Second Life® and Linden Lab® are registered trademarks of Linden Research, Inc.